CMS platforms like WordPress are a great tool. They allow people to have more control over their own websites without having to know all of the ins and outs of website development.  In fact, WordPress is now the most popular CMS platform in the world. However, WordPress sites have special ongoing needs that the old school html sites do not require.   The nature of WordPress can potentially leave it prone to security flaws and attacks.  Backing up the site also requires separate steps.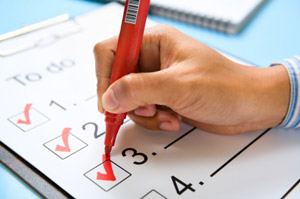 Here are the 10 most important things you can be doing to keep your site safe and running properly:
Make sure to create a child theme.  A child theme is the safest and easiest way to customize your site.   If you modify an existing theme and it is updated, your changes will be lost.  The child theme will allow you to still keep your changes during an update.
Set up an Amazon S3 account.    You will be able to store and retrieve your website here and it will ensure all of your information is recoverable and protected if your web hosting company has an outage and data is not recoverable.
Install a backup plugin.  My personal favorite is BackWPup.  You can save your complete installation to your S3 account and also a local folder. Set it to run automatically and make sure to receive notifications if there are issues with the backup so you can correct any problems.
Make sure your username is not the default "admin".   If someone wants to hack into your site "admin" is the first word they will try. If you are using this make sure to change it now!
Install the WordPress SEO plugin by Yoast.  This plugin offers nearly everything you need to optimize your site.  It will also help you generate your XML sitemap.
Add Google Analytics to your site.  It is a powerful reporting tool and will provide you with tons of insight.
Verify your site with Google Webmaster Tools and submit your xml sitemap. Creating a sitemap helps search engines better crawl and categorize your site.
Keep your plugins up to date. This will ensure you have access to the added functionality and new features created by the plugin's developer team.  It will also minimize the number of bugs and help keep your site safe againts potential hackers.
Set up an account with Securi.net.  Install the WordPress plugin to help monitor your site for malware. Utilize the 1-click hardening feature to make sure your site is a "hack free" as possible.
Delete unused WordPress themes and plugins.  Removing these will help improve overall performance and reduce the server load. This also eliminates one more doors for malicious code to access your website.